Podcast: Play in new window | Download
As we express our gratitude, we must never forget that the highest appreciation is not to utter words, but to live by them.               
- John F. Kennedy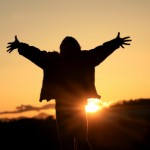 Do you know what I like about you, dear reader? I like the way you approach your life. I like the way you open to new ideas. I like it that you're inquisitive and thoughtful. I like it that you like me!
I believe those words to be true, and as such, I feel no dishonesty in saying them, even though you and I may never have met face to face. I say these words, knowing that gratitude and appreciation feel good to the recipient, even when the connection to the sender is slight. (Try going up to a random stranger sometime, smiling and saying thanks. They may be confused, but they'll still feel good, smile back, and in all likelihood, say you're welcome.)
Expressing gratitude transforms the sender as well. In any one moment, there are things you can be grateful for and things that you can be aggravated by. You get to choose your focus. So, this week, I have a challenge for you. It's a magic trick. Start a conversation with at least three people with, "Do you know what I like about you?" And see what you make appear!
PS. I'M STARTING TO GATHER NAMES OF INTERESTED PARTIES WHO WANT TO BE PART OF THE INNER LAUNCH FOR MY NEW HOME STUDY COURSE, OVERCOMING PROCRASTINATION FOR NETWORK MARKETERS AND ENTREPRENEURS. IF YOU WANT TO BE CONSIDERED AS A PARTICIPANT IN THIS LIMITED LIVE LAUNCH (50 PEOPLE MAXIMUM) PLEASE SEND ME AN EMAIL AT steve@stevetaubman.com.