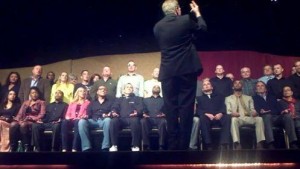 OK, my friends Kevin Marino and Bob Doran of North American Power, have shamed me into getting back on here and providing some fresh content. Many of you remember my swan song last December, when I said I needed to take an indefinite period off from sharing wisdom, thoughts and ideas…because at that time I was pretty burned out.
But it's been a very good year. I've learned a bit about balance, and I've leaned more towards allowing and less towards forcing things to happen. As a result, I've had some pretty marvelous speaking opportunities, several great radio and teleseminar interviews, and a TON of hypnosis shows for every possible venue. In fact, if you go to my Facebook page, you'll see some incredible footage from my recent show at North American Power (where the shaming took place!)
So, now I'm going to start VERY SLOWLY contributing content to this blog and watching for glimpses of wisdom I can share with you. For now, please accept my urging to you that you too learn how to allow rather than force your goals to manifest themselves. The universe has a pretty good part to play, so let it play its part! Enjoy, my friends…and as always, your comments are welcomed!
{ 0 comments }